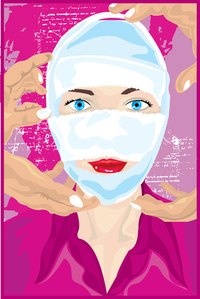 It may seem counterintuitive that a cosmetic procedure would render your skin temporarily unpresentable. Some procedures, including CO2 laser resurfacing, turn the treated area red and crusty. This condition is temporary. With carbon dioxide laser resurfacing, it typically takes about one to two weeks for your skin to heal. Expect to have redness for one to four months following the procedure. After your skin heals, you may cover up the redness with makeup. You'll notice the full results of the laser treatment after the redness goes away.
Things You'll Need
Bleaching agents
Retin-A
Pain medication
Antibiotic ointment
Prepare for your recovery before you undergo the procedure. Your plastic surgeon should provide you with skin applications, such as bleaching agents and Retin-A, to use before the procedure. Begin using these applications for at least six weeks before your resurfacing appointment. Preparing your skin in this way will aid your recovery, reduce the possibility of discoloration, and help you heal faster.
Arrange to have someone drive you home after the procedure. When you undergo CO2 resurfacing, the surgeon will administer general anesthesia to render you unconscious. Although the procedure does not require an overnight hospital stay, you will be unable to drive after the anesthesia.
Take the pain medication exactly as directed by your surgeon. You may need painkillers for the first one to four days. Do not exceed the recommended dosages. If you still experience pain despite taking the medication, contact your doctor.
Apply an antibiotic ointment to your skin several times each day. If you rinse your face, reapply the ointment. When rinsing, use only cool water and avoid soap.
Apply a cool, damp cloth to your skin several times a day for 10 minutes. This will help reduce swelling. It may also relieve discomfort caused by crusting of the skin.
Avoid exposure to sunlight. When your doctor tells you that your skin is healed enough to remain outdoors, apply sunscreen. Use a sunscreen with an SPF of at least 15. Continue to use sunscreen for at least three to six months.
Refrain from applying makeup until your skin is healed and it is no longer crusty. According to Johns Hopkins Cosmetic Center, this may take one to two weeks.