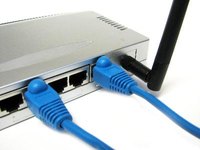 The Canon imageRUNNER C2550 is a multifunctional printer, scanner, fax machine designed for use in a business office environment. Businesses often have more than one computer using printers. Instead of running several physical connections throughout the office to each computer, many businesses choose to install printers like the C2550 as a network printer. Network printers connect directly to a network instead of to a computer. Then, each computer can connect to the network to use the printer.
Things You'll Need
Ethernet cable
Wireless router or network hub
Use an Ethernet cable to connect the Canon C2550 to your network router.
Open the Start menu on a computer connected to the network. Click "Devices and printers." Click "Add a printer" to begin the network printer installation.
Click "Add a network, wireless or Bluetooth printer." Select the Canon C2550 from the list of discoverable printers within range of your computer.
Give your computer time to find and install the printer drivers for the Canon C2550 to its hard drive. Click "Next" when the computer indicates that it has successfully installed those printer drivers.
Name the Canon C2550 something that will make it easy to differentiate it from the other printers that may be installed on your computer, such as "ABC Company Third Floor Printer." Click "Next."
Select the option to share this printer with other computers on your network. Type in the name that you want them to identify this printer as, remembering that you can leave it the same as the nickname you are using on your computer for the printer. Type in the location of the printer. Click "Next."
Click "Finish" when your computer indicates that the installation is successful. Click "Print a test page" if you would like to test the network connection with a practice print page.