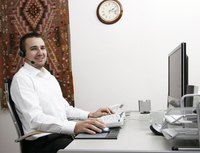 When the product produced is service, it requires quality control, just as though it was a manufactured product. The quality control will come in the form of a regular review of both systems and processes, and of those performing the service, with a view toward reinforcing desired behavior.
Service Processes and Systems
Graph or draw the current service process. Within each "box" step, write down the time needed to accomplish the task. Below the box, write down the methods used.
Circulate the completed chart among team members for review. Include several non-team members as well. Ask for specific improvement suggestions on both steps and methods, from a technological, efficiency and sequence perspective. Compile the suggestions in groups of similar ideas.
Set a meeting to review the suggestions with the team. Ask for pros and cons for each suggestion grouping vetting the ideas. After the meeting, create a revised, improved process based on the discussion. Implement the improved process in a small team to test and revise as needed before rolling out to the larger work group.
Service Performance Improvements
Interview service team members for input on key barriers to productivity. List the barriers. Next to the barrier, allow space to list proposed solutions. Brainstorm solutions with the team; search for technological solutions as well. For example, answering the phone within five rings may have been part of service requirements, but a new strategy to improve customer relations requires reducing the number of rings allowed to three. A barrier may be that it is impossible to distinguish whose phone is ringing; a technological solution may allow for different ring tones for each employee.
List desired outcomes based on team history and company strategy. From the outcomes list, select items to track. Track different items that measure success as accurately as possible. For example, instead of measuring the number of outbound calls, measure the number of actual connections with decision makers.
Measure select outcomes regularly and report the measurements to the team member involved. Tie this measure to reward, either financial or special recognition. Once the new system is established, periodically select a key measure and create a public method of charting and reward.