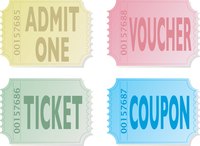 Buying a raffle ticket in a prize drawing is an activity based on chance. You can calculate your odds of winning based on how many tickets are sold and how many tickets you purchase. Read the fine print in all raffle rules to avoid disappointment should the raffle not proceed as advertised. Never buy tickets in an unlicensed raffle. Buying a raffle ticket depends primarily on how much expendable income you have and the value of the prize being awarded.
Things You'll Need
raffle rules
visible raffle permit or license
raffle prize value
expendable money
Make sure the raffle is legal. According to Fundraising Newsletter, raffles are heavily regulated and a permit must be obtained. In some states raffles are illegal. If the permit isn't displayed, and you're in doubt of the legality of the raffle, ask the coordinator if you can see the permit. If there is no license and one is required by your state, do not buy a ticket.
Consider the cause. Many raffles are hosted by charitable organizations. According to the American Camp Association of Southern California, the IRS does not consider the purchase of a raffle ticket, even if for a charitable cause, a tax-deductible contribution. Don't invest in raffle tickets hoping to claim them as tax deductions.
Figure your odds of winning based on the number of raffle tickets sold. According to the American Camp Association of Southern California, they would only sell 2,000 raffle tickets for their raffle. If you only bought one raffle ticket, you would have a one in 2,000 chance of winning the raffle. There might be less than 2,000 raffle tickets sold and that would improve your odds of winning. The more tickets you purchase, the higher your odds of your tickets being randomly selected and winning.
Consider the value of the prize being awarded. If the prize is more valuable than the price of the raffle ticket this could make the prize desirable. Or if the prize is rare or beautiful, the item might entice you to purchase a ticket.
Compare the price of the raffle ticket with how much expendable money you have. Shis is a game of chance, so you must consider the consequences of not winning anything at all. If you are short on cash, the gamble of trying to win the prize might seem valuable, but if you spend your last $10 and you have no food for the day, taking such a risk might not be wise. If you do have expendable money, according to Generation X Finance, although the ticket is not a tax-deductible donation, you are giving money to a good cause if a charity organization is hosting the raffle. If you don't win, you will at least have donated to a good cause.
Consider what happens if not enough tickets are sold. Raffles are held to raise money. Prizes given away also cost money. It isn't worth an organization's money to raffle prizes if not enough tickets are sold to compensate for the money spent to host the raffle. Most raffles state the minimum number of tickets required to be sold. Read the fine print.