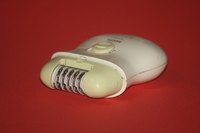 An epilator plucks hair out at the root and can be used to remove hair from your legs, underarms and face. The smooth results will last for weeks. By using an epilator, you will save money by no longer needing to get wax or threading treatment in salons and spas. Numerous brands of epilators are available on the market such as: Braun, Panasonic, Philips and Remington. On average in 2010, prices ranged between $19 and $130. Epilators can be purchased online or in most retail store where personal care products are sold.
Things You'll Need
Wash cloth
Soap
Warm water
Lather the wash cloth with soap and warm water. Wash the area to be treated.
Dry the washed area with the hand towel.
Turn on the epilator and position the head over the target area. Use your other hand to pull the skin taut. Move the device in a slow circular motion in the opposite direction of the hair growth.
Apply a mild body cream to relieve redness and irritation.