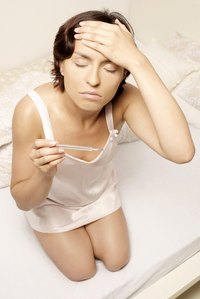 If you have been diagnosed with mononucleosis, also known as "mono" and "the kissing disease," your doctor has probably told you to stay home in bed until you feel better. The symptoms of mono are sore throat, fever, fatigue and swollen glands; these symptoms may last up to 20 days. While this may seem like a long time, there are few things you can do to help you deal with the symptoms and get over the virus more quickly.
Things You'll Need
Pain relievers
Fresh garlic
Throat sprays or lozenges
Warm 8 ounces of water in the microwave or on the stove. Add a teaspoon of table salt to the water and mix it up. Gargle with the salt water to temporarily sooth the sore throat that comes along with mononucleosis. You can also temporarily soothe your throat with numbing sprays and lozenges.
Drink as much water as you can throughout the day to help flush the toxins out of your body and keep you hydrated. Although it may be uncomfortable to drink due if you have a sore throat, you must force yourself to stay hydrated. Being dehydrated is dangerous and will make you feel worse.
Take acetaminophen or ibuprofen to bring down your fever. A fever is one of the main symptoms of mononucleosis. Follow the manufacturer's directions on the bottle when determining the correct dosage. Remember that no one under the age of 20 should take aspirin, as the use of this drug has been linked to Reye Syndrome.
Eat four to six small, nutritious meals a day that include foods high in vitamins A, E and C. These vitamins give immune systems a boost, and will therefore help you get better more quickly. Eating small meals is easier for your body to handle and will take less energy to digest. Add fresh garlic to your meals to give your body extra help in fighting the virus.