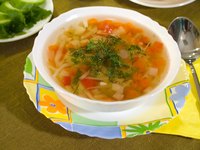 Purchasing soup in bulk quantities either for personal or business use can save money. Membership-based stores or online wholesalers provide bulk soup options to the everyday person. Businesses with an Employer Identification Number, or EIN, can get soup directly from a wholesale producer.
Things You'll Need
Employer Identification Number
Purchase a bulk food store membership. The major warehouse supplier stores are Costco and Sam's Club. Both stores offer a membership option to the general public, which costs $35 per year, as of 2010. If you own a business and would like a business membership, you will have access to special store hours and tax-free purchases. You must have your business information with you when you apply for a membership, including state business license information and an EIN number. Business memberships will vary from $35 to $100, as of 2010. Wholesale food suppliers also sell soup in bulk, but they cannot sell to the general public and will only be able to sell soup to an established business with a tax ID number or EIN.
Acquire an Employer Identification Number, or EIN. Any individual who is starting a business can apply for an EIN number directly from the IRS. You do not need to pay any fees for this number, but will need to provide the business name. Check with your state for business licensing requirements specific to the type of business you would like to set up. Wholesale suppliers do not charge tax on their products because the tax is charged by the provider who will be selling the food to the public.
Pay membership fees. When signing up for a membership, you will have to pay the initial fee. You will also have to pay the fee yearly to continue having access to the bulk warehouse store. If you are a business, and will be purchasing from a wholesale food supplier, there is not a membership fee required. Membership fees are only charged at the retail bulk stores, such as Costco and Sam's Club.
Purchase soup. Quantity and size are both factors when determining how much soup to purchase. If you will be freezing your soup, or if it comes in cans, you can purchase larger quantities because they will store easily. If you are using the soup in a restaurant, where you want to serve it fresh, calculate the amount of soup you use each week and only make your purchases weekly to ensure freshness.
Bulk soup is sold in large industrial containers of five pounds, smaller one-pound containers and bulk quantities of individual sized containers. Before purchasing your bulk soup, identify the size that will work best for your business or household.