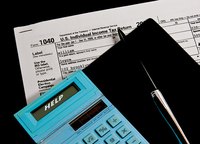 Completing a tax return on the sale of a business requires several steps to determine the status of each asset of the business. It cannot be reported as simply one lump sum sale. The basis of each item must be calculated and classified according to the instruction with Internal Revenue Service (IRS) form 8594. The buyer and the seller use this same form for income tax reporting purposes. Form 8594 is the asset acquisition statement, under section 1060.
Things You'll Need
IRS 1040 instruction booklet
IRS form 8594
IRS form 8594 instructions
Complete the top portion of the 8594 form giving your name, address, identification number, the date of the sale and the total sales price. Also indicate you are the seller rather than the buyer.
Determine the class for each asset being sold by following the definitions for the classes as shown in the instructions for form 8594.
Enter the fair market value for each class of asset. Class I assets include cash and savings and bank deposits. It does not include certificates of deposit held by banks and savings and loan associations. Class II assets are items such as government securities and certificates of deposit and stocks which are traded publicly.
Complete the asset listings for classes III through VII.
Enter the totals on the last line of part II, question four.
Indicate in question five whether the buyer and the seller both agree on the allocations as stated and that they are stated the same in the sales contract.
Indicate in question six whether any other assets were purchased such as a no- compete license, a lease or an employment or management contract with the seller or other personnel of the seller. Part III on page two of the 8594 is only used if you are amending a previously filed form 8594 and you want to report an increase or decrease in the assets reported. Attach this completed form to your IRS 1040 income tax return.