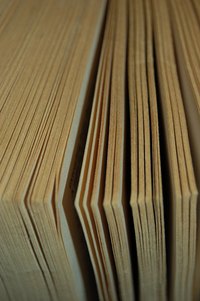 The Ricoh MP 2550 uses separator pages to distinguish between print jobs. While the separator pages can help to avoid the problem of employees taking and then misplacing the wrong print jobs, some users would rather not have the separator page printed. The process to turn off the option to print separator pages is simple and takes just a few minutes to complete.
Press the "User Tools/Counter" button on the Ricoh MP 2550 front panel. This button will be located in the top left side of the front panel.
Select "Printer Features" from the menu that will appear on the copier's touch screen display.
Select the "System Tab" button. There will be several tabs that appear after entering the Printer Features menu and may be arranged differently from one MP 2550 to another.
Press the "Job Separation" button. This will bring up a simple "On" or "Off" option button. Selecting the "Off" button will eliminate the separator page from being printed in between print jobs.