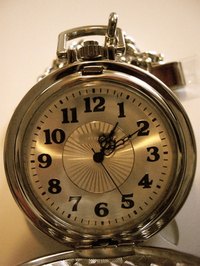 Rolex watches are a symbol of style, luxury and success, and with an increase in reproductions of originals, it is important to distinguish between an authentic watch, a good replica and a bad replica. There are a few tricks that will help you to see both the obvious and the minute differences. Some imitations are painfully obvious fakes while others are capable of fooling even the experts.
Things You'll Need
Hold the watch and feel the weight. A good replica in comparison to other watches should feel sturdy and heavier because it is made of valuable metals, such as steel or gold. A bad replica often looks cheap and feels coarse and lightweight.
Examine the band of the watch. The links on the bands of poorly made replicas may be hollow. Each link in a bad replica will also be held together by pins, rather than screws.
Run your finger along the band of the watch. A good replica will have smooth lines and edges, not sharp or rough edges.
Examine the face of the watch with a magnifying glass. Poorly made replicas use an ordinary piece of glass in which the surface may scratch, rather than using a true sapphire crystal that is scratch resistant and more durable.
Tap on the face of the watch. It will sound different when a glass face is tapped in comparison to a sapphire crystal.
Wipe or smear water across the face of the watch with a towel. Water on a sapphire crystal will tend to form beads because of the exceptionally smooth surface. If the watch has a glass face, the water will not do this.
Watch the movement of the second hand, using a magnifying glass. The second hand should smoothly and continuously as it sweeps around the face of the watch, rather than have small, stop-and-go increments.
Locate the Cyclops Magnification Lens, also known as the date bubble. On a poorly made replica, the Cyclops lens is usually made of glass and will magnify 1.5 times instead of 2.5 times.
Turn the watch over to look at the back, or the caseback. There should be no engravings or logos on the back, and the watch should not have a transparent caseback.
Look for the hologram sticker on the caseback. A good replica should have an encoded 3D hologram sticker of the Rolex crown that changes when viewed from different angles, rather than a sticker that may not be a hologram or change patterns when it is tilted.
Detach the band, and look at the side of the watch. There should be serial and reference numbers on the links. If these numbers are missing, or if they are engraved with a rough edge or have a grainy appearance, it is bad replica.