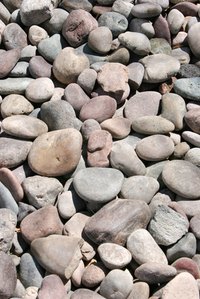 If you are hiking or camping and have no access to clean drinking water, heating rocks can be a relatively simple and effective method to purify rainwater. Although rainwater looks clean and inviting, it may contain airborne pollutants or bacteria. It is always advisable to play it safe and boil any water you plan to drink. With a fire, rocks and a heat-resistant container, you will be able to quickly purify rainwater.
Things You'll Need
rainwater
fire-making material
heat-resistant container
matches
rocks
two sturdy sticks
gloves
Collect rainwater in a heat-resistant container. Look for places where rain collects naturally, such as grooves or depressions in rocks and low-lying areas. Avoid pools of rainwater that are too murky or have algae growing in them. Build a fire using any available kindling and logs.
Collect at least 20 to 30 rocks small enough to fit individually in the container. Clean the rocks so they are completely free of dirt or organisms. You will need to keep the water boiling for anywhere from five to 20 minutes. This is the amount of time needed to properly purify the rainwater.
Place the rocks in the fire. Allow them to heat for at least 15 minutes, or until they are red-hot.
Clasp one of the rocks between two sticks and remove it from the fire. Place the rock in the container of rainwater. This will cause the water to begin boiling.
Remove the rock once it begins to cool and immediately replace it with another rock from the fire. Place each cooled rock back in the fire so that you have a constant supply of hot rocks to use until the water has been thoroughly heated and purified. After 20 minutes of boiling, allow the water to cool before drinking.