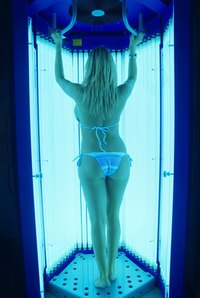 A tan look is easy to get, without exposing your skin to the harsh U.V. rays of the sun, with a spray tan. A spray tan just consists of a tanning agent (oil or liquid) that is applied to the skin with a pressurized sprayer. Because of the nature of spraying a liquid through a pressurized sprayer there is no way to keep all of the liquid on the person so a specific area to spray tan in is recommended. Outfitting your own spray tanning room is a fairly simple process.
Things You'll Need
Measuring tape
Hardwood flooring or outdoor carpeting
Ventilation system or box fan and air conditioning filter
Using a measuring tape, measure the area of the room you want to turn into a spray tanning room.
Purchase and install hardwood flooring or place outdoor carpeting on top of the pre-existing flooring.
Install a ventilation system that cycles air at least three times a minute. Or you could place a box fan with an air conditioning filter attached to the front in the back section of your room facing away from where the person will stand while being tanned. Keep the fan on low while spray tanning.
Measure the area of each wall for vinyl flooring to cover the walls for easy clean up, you can exclude the wall area around the door but you should be prepared to wipe this down.
Using the nail gun, nail pieces of vinyl flooring to each wall of the room. Choosing a vinyl any other color than white or cream is recommended because the white will quickly become dingy.