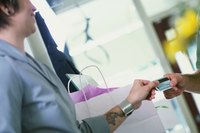 The Children's Place, a children's clothing retailer, offers customers a store credit card issued by Citibank called the PLACE credit card. Credit cardholders get 5 percent off anything bought at The Children's Place. A larger discount is offered on the first purchase. You can apply in-store or online.
Qualifying
You're eligible to apply if you're a resident of the U.S. or its territories with a valid social security number and a government-issued identification card such as a driver's license or state ID. Applicants must be 18 years old, or 21 or older in Puerto Rico. You'll also need to provide personal details such as your address, phone number, date of birth and income. Information from your credit report, such as your credit score, determines if you are creditworthy and the credit limit on the card.
In Store
You can apply for the PLACE card at your local Children's Place store. If you're approved, you can save 20 percent or more on your first purchase. Any sales associate can take your application. Applications are available in the store and in many cases, it can be processed in a matter of minutes.
Online
Apply for the PLACE card online and also qualify for a promotional discount on your first purchase. Go to the online application on Citibank's website and fill it out. You must enter personally identifiable information and agree to the terms and conditions. If you don't answer all the questions, it could take longer to process your application. It is possible to download or print a copy of the terms and conditions or request a paper copy by mail.
Getting the Card
Many applicants receive approval immediately. You can buy something in the store even without the physical card. The card can take up to 14 days to get through the mail. The account is managed online through Citibank.