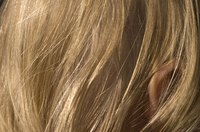 Simply dying your hair from brown to blonde is not as easy as it sounds. To ensure you look your best, you have to pick the perfect shade and tone of blonde. If you pick the wrong shade or tone, you can end up looking washed out, pale or even have your skin look gray. With the help of L'Oreal's Hair Colorist, Christophe Robin, you can pick out your perfect shade of blonde right online.
Navigate to lorealparisusa.com to access Christophe Robin's L'Oreal Paris expert page online.
Click "Haircolor" at the bottom of the page.
Click "Find My Shade" under Color with Confidence on the right side of the screen.
Click "Start" under Find My Shade on the left side of the screen. Listen and watch the video made by Christophe Robin to get started, then click "Next."
Select "Blonde" under the title: What is Your Dream Color?
Select the shade of blonde that you want: honey blonde, ash blonde, light blonde or platinum blonde.
Select the tone that you want your blonde to be: natural, cool or warm. For best results, if you're a warm-toned person, select a warm-toned blonde; if you're a cool-toned person, select a cool-toned blonde. (See Tips.) Then, click "Next."
Select your personality on the left side of the screen. Choose from Fashion-Forward, Glamorous, Classic, or Natural and Healthy. Click "Next."
Select "Click Here to Select Your Natural Hair Color." Choose from the list of different hair colors the one that best represents your current brown hair. There are more than 15 different shades and tones of brown to choose from. Select "Next."
Answer the two questions provided on the screen. Answer "Yes," "No," or "Unsure" to the question of if you've ever used henna hair dye before. Select "Yes" or "No" regarding whether your hair is currently chemically treated. Select "Next."
Answer the next three questions that will appear on the screen. Choose the overall health of your hair, check the boxes next to any recent chemical treatments that you've had done to your hair, then select how long ago it was when your last chemical treatment took place. Keep in mind that chemically treated hair includes dying, highlighting, perming, straightening, relaxing and texturizing. Click "Next."
Choose the length of your hair, as well as the density, or thickness. Select "Next."
Look at the list of blonde colors that suit you. Any color with an explanation point (!) is not best for you.