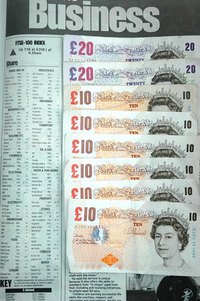 The FTSE Group operates over 100,000 trading indexes including its most well known stock index, the FTSE 100, consisting of the top 100 largest companies on the London Stock Exchange. The FTSE 100 Index, which first started in January 1984, is the most widely used and represents just over 80 percent of the London Stock Exchange's market capitalization. Other indexes include the FTSE 250 Index, FTSE 350 Index and FTSE SmallCap Index.
Instructions
Decide how you want to buy shares, either by post, phone or Internet. Telephone and Internet brokerage services will give you immediate access. Postal services will take longer. Whichever one you choose, you will be subject to credit and identity checks when you first start out.
Research the FTSE indexes to establish which shares you want to buy. Starting with companies featured on the FTSE 100 Index is often the safest for beginners. The finance section of a reputable U.K. Sunday newspaper, which can be accessed online, will help you to get to know the current share prices and the top performers.
Find a stockbroker. The London Stock Exchange operates a "find a broker" service, which is a good place to start. Most people use an execution-only stockbroker as this can prove to be the most cost-effective. With this type of broker, the client's trade instructions are carried out and no advice is given. An advisory dealing broker, which is more expensive, offers advice but leaves the final decision to the client. If you want a full advisory service then hire a stockbroker engaged in discretionary dealing. This type of broker will ascertain the client's investing goals and then invest on her behalf, as well as offer advice on which companies to invest in. If you choose to go with a bank, a stockbroker may be hired on your behalf. Check the fees involved when trading with either a bank or directly with a broker.
If you're using an online broker, once you've registered, you can start buying and selling shares. If you've hired a stockbroker you need to place an order.