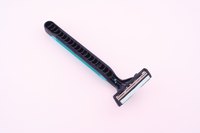 Ingrown hairs are a possible side effect of shaving your pubic region or upper thighs. These areas can get warm and chafed, especially when clothing is rubbing against them. The irritation of rubbing and improper shaving can often result in ingrown hairs, which are hairs that grow back at an odd angle and stay underneath the skin, often causing pimples and even blisters. Prevent ingrown hairs on the genital area and thighs with a few techniques.
Things You'll Need
Loofah
Antibacterial body wash
Moisturizing shaving cream
Razor
Towel
Ingrown hair treatment
Get in a warm shower and allow the steam to soften your skin.
Lather a loofah—which will exfoliate the skin—with antibacterial or acne-fighting body wash and use it to wash your body, including your pubic and thigh area.
Rinse your skin thoroughly. Apply a moisturizing shaving cream to your legs up to your thighs and around your pubic area. Turn the water off temporarily or keep the water from rinsing away the shaving cream.
Shave your legs and thighs, starting from the top and shaving downward with the hair growth. Do the same for your pubic region, always shaving in the direction of hair growth.
Rinse away the shaving cream and step out of the shower. Pat, don't wipe, your skin dry.
Apply a topical ingrown hair treatment cream or gel. Allow the treatment to dry before putting on clothing.