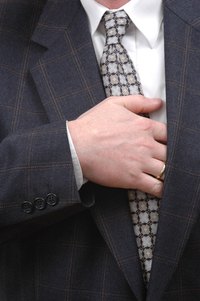 As of 2010, about 42 percent of term life insurance is group life insurance. Group life insurance offers premiums that are far below individual insurance policies. These policies do not have the same underwriting requirements that individual policies have. All employees who work for you are eligible for group term and won't be turned down for health reasons. When you're purchasing group health insurance for your business, you should understand how these group policies are calculated.
Examine your employees' earnings. The first way that group life insurance benefits can be calculated for your employees is based on their earnings. The amount of life insurance you can offer your employees is a flat amount per earnings level or a percentage of their salaries.
You can also calculate your employees' life insurance benefits by setting a maximum amount of life insurance they are able to purchase according to their position within the company. For example, you can set a maximum amount of life insurance for rank-and-file employees, and a higher maximum level for executive-level employees.
The simplest method of calculating benefits for your employees is to use a flat benefit amount. This method establishes a flat amount of death benefits that your employees can purchase, regardless of their salary and position within the company.