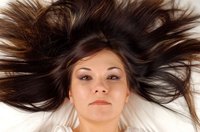 Long, thick and luxurious hair is easy to get with the help of hair extensions. Through a process of hot fusion, cold fusion or ultrasonic attachment, hair extensions are bound to strands of your own hair. The average wearable time frame for hair extensions is 12 weeks to 5 months. You can return to the hair stylists who attached your hair extensions when you want them removed at a cost of between $100 and $500, or you can venture to remove them on your own.
Things You'll Need
Great Lengths removal solution
Apply Great Lengths removal solution to accomplish the process. Great Lengths Hair Extensions need to be removed using the solution provided by the manufacturer. Every hair extension company uses their own brand of bonding formula and, therefore, you must match that formula with the removal solution. Apply the solution directly to the root of the hair extension and massage into each bonding location.
Let the removal solution sit for one hour. The time-frame will vary depending on your hair and the strength of the bonding material. One hour is an estimated time for leaving the removal solution on your hair. Wrapping a plastic bag around your hair and securing it will allow you to continue your normal activities while the solution is absorbing into the bonding material.
Break the bond with removal pliers. Removal pliers are flat metal pliers used to squeeze the bonding material. The bonding material is at the root of the hair extensions. Squeeze each extension to break the bond. You can also use your fingers to break the bond by rolling each extension tightly between your thumb and forefinger.
Apply additional solution if necessary. If it is extremely difficult to break the bonding material on your hair extensions. Re-apply the removal solution and let sit for an additional hour. The amount of time to break down the bonding material varies based on the length of time it has been on your hair.
Hold the roots of your hair. While holding the roots of your own hair, gently pull the hair extension out. The hair extensions should cause no pain and only a slight pulling sensation once the bonding material is broken.
Pull extensions from the hair. One by one, pull each of the hair extensions away from your hair. Clip hair out of your way for easy access to the hair extensions. Pull extensions slowly, one at a time, and apply additional removal solution as needed for stubborn extensions.
Shampoo hair. To remove any leftover bonding material it is necessary for you to shampoo your hair. Blow dry hair and brush out to check for remaining bonding material.