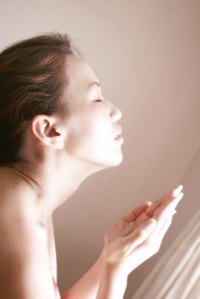 Many people experience the unfortunate discomfort of acne and pimples. Clogged pores create acne and pimples on the skin by filling with dirt and dead skin cells. The blocked pore then fills with bacteria and a pimple forms. Drug stores and supermarkets carry several different items in the health and beauty aisles to treat these outbreaks. However, these items often have a long list of unknown ingredients that can cause even more damage and discomfort to the skin. Natural remedies offer a safer alternative.
Things You'll Need
1/2 cup oatmeal
2 tbsp. yogurt
Sugar
How to Get Rid of Pimples and Acne Fast and Naturally
Clean the skin. A good cleanser should not damage or irritate the skin. Make a cleanser out of 1/2 cup oatmeal and 2 tbsp. of yogurt. Apply the mixture to the face and massage the skin. Avoid the eyes. Allow the mixture to sit for about 10 minutes before rinsing off.
Exfoliate the face to remove dead skin cells. Exfoliants uses a mixture of coarse and moist ingredients to create a scrub. Sugar works with olive oil to take the dead cells off the skin. Mix into a thick but spreadable paste before applying on the face.
Treat the individual pimples with natural products to helps them heal quicker. Tea tree oil naturally fights bacteria and fungus. It can also treat acne by killing the bacteria. Most people will find tea tree oil alone too strong for their skin. Mix tea tree oil with another oil such as olive oil to dilute. Dab the mixture onto the infected areas.
Eat healthy foods. Processed and unhealthy foods cause problems for the skin. Acne.org suggests eating a balanced diet full of veggies, fruit, seafood and grass-fed meat to stabilize insulin levels. Research shows high insulin levels lead to an increase in the male hormone, androgen, which can cause acne and pimple breakouts.