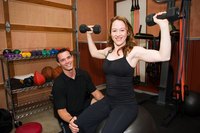 Gaining weight is simple: Consume more calories than you burn. One pound equals approximately 3,500 calories. You can gain weight in a healthy way if you change your diet and exercise routine. Here are some of the ways that you can add a few pounds. If you try these weight-gain techniques but have no luck, visit a doctor to make sure that you are not suffering from any hidden health problems.
Weight Gain Tips
Increase your calorie intake. The amount of calories you need varies by age, weight, height, gender and activity level. Use an online calorie calculator, such as the one on the Mayo Clinic's website, to determine how much you need each day. Once you know how much you need, you can increase your caloric intake accordingly.
Eat more often. Increase the number of meals you eat each day from two to three to up to five or six. Fill them with nutrient-rich foods, such as whole-grain breads, pastas and cereals, fruits and vegetables, low-fat dairy products, and lean protein sources, including nuts, seeds and beans, according to the Mayo Clinic.
Pay attention to what you drink. Replace diet sodas, coffee, tea and drinks that have scant calories with smoothies, shakes and drinks that have a higher calorie and nutrient value. Adding flaxseed to your drinks will also add calories. Also, don't drink fluids during your meal. The Mayo Clinic advises drinking 30 minutes before or after your meal so you don't fill up as quickly while you're eating.
Choose snacks rich in calories. Try nuts, peanut-butter-and-jelly sandwiches, slices of meat and cheese, dried fruit, avocado wraps or trail mix. Also, eat a snack before bedtime.
Eat healthy fats. If you usually stick to skim milk, add 1 percent or 2 percent milk instead. Fill up on nuts, yogurt, avocados, fish and such lean meats as turkey and chicken.
Indulge your sweet tooth. But don't choose treats with empty calories. Choose sweets with nutrients, such as bran muffins, yogurt, fruit pies, granola bars and energy bars.
Add supplements. If you are not getting enough calories from the food you eat, WebMD recommends trying a supplement, such as Ensure, in between your meals.
Bulk up. While exercise quickly burns calories, try weightlifting to increase your muscle mass, which is denser than fat and weighs more.