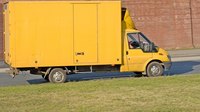 Advertising on semi trucks is a great way to gain exposure. It grants businesses a way to become promoted in a mobile strategy. Prices for this unique moving billboard service may vary, but it is well worth the expense for brand reinforcement purposes. In order to gain advertisement space on a semi truck, you will need a marketing budget and the contact information of the decision-maker (i.e., owner) to begin the process.
Locate the type of trucking company you want to work with for advertising. For example, a local bakery business that does not noticeably mark their truck to market to the general public may offer a great opportunity. Consider the types of businesses that use trucks to transport and don't advertise on their own trucks. Use the Internet to find franchises or privately owned semi truck owners who may be interested in additional revenue potential from advertising.
Price the options available for leasing or purchasing ad space on semi trucks. Costs will vary on the company. Make an offer based on the anticipated amount of miles traveled. For instance, a cross-country semi truck advertising price will be greater than a local one that goes a few miles per day. Therefore, determine what your budget can afford and compare offers by contacting the decision-maker (i.e., owner) directly.
Ask the trucking company that you plan to work with for a referral for a designer because they may already have an established relationship. If not, hire a professional designer/copywriter from an advertising agency with an art department to generate an original and memorable advertisement to create a persuasive pitch with a few second readability. Also, the truck owner may have preferences for how the image is attached to their property. For example, a certain adhesive may be favored over another by the truck owner for future removal purposes.
Submit the design to the semi trucking company for final approval. Remember, the semi truck advertisement should reinforce the brand. The brand denotes a certain idea, like quality products. The ad should make people driving by feel like they should be buying your product. Once payment is made to the trucking company, you should receive word about when it is ready for you to preview before the truck leaves for the streets. Confirm the advertisement information is correct.