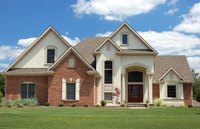 A private mortgage occurs when the seller of a home or real estate property holds the mortgage on the property for the buyer. In essence, the individual selling the home becomes the lender for the buyer of the property. Usually, you can sell private mortgages to buyers who would not normally be able to qualify for a traditional mortgage. Selling private mortgages can be a lucrative way to earn money because when the borrower or buyer of the mortgage makes monthly payments, the payments include a portion of interest.
Find a mortgage broker. One of the easiest ways to sell private mortgages is to establish a relationship with a mortgage broker. A mortgage broker acts as a liaison between borrowers and lenders, so he or she typically has a pool of customers who need to borrow money. If you have money to lend, then the broker can be the matchmaker.
Negotiate the terms of the private mortgages. Similar to how a lender provides different interest rates, terms and conditions to borrowers based on credit, employment verification and more, the same holds true when you are selling private mortgages. These terms and conditions may vary slightly by the creditworthiness of the borrower, but selling private mortgages can typically earn you interest that ranges from 12 percent to 15 percent.
Create a promissory note. The focal point of selling a private mortgage is the promissory note, which is the legal instrument that says the borrower has to repay you the loan amount, the interest rate and the term of the private mortgage (number of years, which is typically less than five years). You can create your own promissory note or have the mortgage broker draw one up for you to have the borrower sign as acknowledgement to the terms and conditions of the mortgage.
Establish an escrow account. You can establish an escrow account with a title company, real estate attorney or with the mortgage broker. The escrow account is a third-party account that acts as the depository for the monetary transactions involved in the process of selling private mortgages. For example, if you are selling a private mortgage, you would deposit the loan amount for the mortgage. Out of the escrow account, the seller of the home would receive the price of the home. Then when the borrower on the mortgage makes a payment, it is deposited into the escrow account and then disbursed to you.