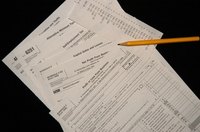 The timing of Internal Revenue Service (IRS) estate tax filing requirements is fixed by the date of death of the decedent. Other taxes and their filing requirements are fixed by the date of death and/or by law.
Required Estate, Trust and Other Tax Returns
Confirm the decedent's date of death. Get a copy of the death certificate. Proceed in a timely manner as deadlines can be strictly enforced.
Determine, if you are the executor of the estate, an estimate of the estate's value at the date of death. Read the instructions carefully, to ensure you have included the valuation of prior gifts and other property, where required.
Determine if the value of the decedent's estate exceeds the exemption amount, which will necessitate the filing of an estate tax return.
File a required estate tax return on or before nine months after the date of death, unless you previously filed for an extension of time to file. See the instructions for the terms and conditions for extensions.
Determine if any other tax returns must be filed, whether or not an estate tax return is required.
File the first trust tax return—if a trust tax return is required—on or before nine months after the date of death. Subsequent trust tax returns are based upon the calendar year.
Consult the instructions for Form 709, dealing with trust taxes. Enter http://www.IRS.gov/instructions/i709/ch01.html#d0e558 in your browser to see the IRS' trust tax return instructions.