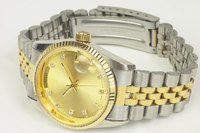 The Rolex Watch Company introduced the Submariner model in 1954 at the Basel Watch Fair. The Submariner model was instantly popular and continues to be one of the most respected lines for the luxury watch company. Submariner watches are designed for diving and are highly waterproof. As with almost all authentic Rolex watches, a Rolex Submariner has considerable value, although determining the value of a Submariner depends on several factors.
Examine the watch closely. As with any collectible item, the condition will greatly influence the overall value. Items in mint condition, with few to no scratches, marks, scuffs, dents or dings will retain a value close to the original retail price of the watch. Examine the watch closely with magnification to look for scratches on the watch face or bezel. The case back should be free of any engravings, marks or scratches as well. Check the seal to make sure the Rolex Submariner triple-lock seal is intact and has not been replaced or removed. Turn the watch over and examine the band carefully for any scuff marks or scratches. Submariner watches that have damage or show wear will have a reduced value in direct relation to the amount of the damage itself.
Retain the certificate of authenticity included with the purchase of the Rolex watch as well as the box, if possible. Rolex watches accompanied by the original paperwork and box will have a higher overall value than watches missing these items. Also note watch specifications. According to the Becker Time website, a Rolex Submariner has specific components such as an Oysterlock bracelet.
Visit websites such as eBay.com to view current auction listings of Rolex Submariner 16710 watches. Scroll down on the left-hand side of the screen and click "Completed Listings" under "Preferences" to see listings that have already completed. These listings will include the final sale price, which is an effective way to determine current market demand and value.
Get an appraisal of the Submariner by an authorized Rolex retailer or jeweler. Request that the appraiser provide a written estimate of the watch's worth.