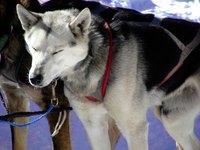 If you live somewhere snowy during the winter months, sledding with your dog can be an enjoyable experience. Historically, dog sled teams were led by at least four dogs and were used to transport food and necessities over snow-covered areas. Now they primarily function for entertainment and enjoyment. Constructing your own sled takes skill as well as several supplies.
Things You'll Need
Skis
Angle braces
Deck screws
Wood varnish
Measure your lumber. You need to make the handle beams as two 36-inch-long two-by-fours. The angled brace requires two 42-inch two-by-fours while four 22-inch two-by-fours will make up the cross braces for the runners. Finally, four 8-inch two-by-fours will make up the handle and support brackets
Saw the lumber into the appropriate pieces.
Put two skis or two two-by-fours covered in plastic on the ground. These represent your runners.
Using a drill and at least four deck screws, connect the runner cross-braces to the runners. Make sure they are evenly spaced and perpendicular to the skis.
Add the handlebar behind the back of the cross brace. Make sure that the vertical bar is fitting firmly against the cross-brace. Connect using a drill and at least four deck screws.
Install angle braces between the runners and vertical handles. You should form two triangles between the runners, angle braces, and vertical handles.
Protecting the wood is important. Sand the wood portions and then add a wood varnish. It should dry completely before you use it in the snow.