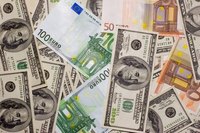 One of the most convenient ways to send money to the United States from Nigeria is through Western Union. Just bring everything you need to the nearest Western Union office and you should be done in a matter of minutes. To find a Western Union office near you, visit nigeria.westernunion.com and click "Find an Agent" in the top right corner of the home page.
Things You'll Need
Government-issued ID
Money you need to send (Check with your local agent about forms of payment)
Fill out the Western Union "Send Money" form. Print clearly and legibly in capital letters when completing the "Send Money" form. Make sure you complete the form in its entirety, including the recipient's name, the amount of money you're sending them and the city where they'll pick the money up.
Take the completed form to the Western Union agent with your state-issued ID, the amount of money you're sending and the applicable fees to send money through the Western Union service. Some agents do not take debit cards, so call your local Western Union to make sure they accept the type of payment you plan to present.
Find the control number on your receipt once you've sent the money and paid for any applicable service fees. Call the recipient and give them the control number. When they pick the money up, they must print the control number on the "Receive Money" form in order to get the money.