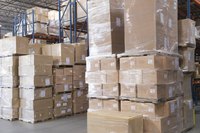 The shipping and handling marks on cartons being exported provide essential information for the safe delivery of goods to the buyer who has purchased them. There is a protocol to follow in marking cartons for export. The marks on the carton allow the exporter, customs agent, freight handler and importer to clearly identify the contents of the carton. The marks serve as an identification number. The marks must be consistent with the packing list. The front marks identify the content and the handling marks ensure its safe passage.
Black out old marks on reused cartons. If you ship a lot of cartons, it may be necessary to reuse cartons to cut down on costs. Avoid confusion by blacking out or covering the old marks.
Write the content information in code. Information about the company and the port of destination is on the front of the carton. Avoid using the company name. This protects the package from pillagers. Use coded letters for the company, such as the purchase order. This allows the importer to identify your company while keeping it safe from pillaging. Include the port of destination in the front marks as well. It is sometimes necessary to include the country.
Provide content information on the side of the carton. The side marks identify the items in the package. These should also be in code. Also include the net weight or gross weight with the side marks. This is used by the freight handler to calculate costs.
Determine the proper safety procedures to protect the items in the carton. The handling marks give shorthand information and clues to the freight handlers about how to handle the items in the package. Handling marks include information such as "Fragile," "This Side Up," "Keep Dry," "Do Not Stack" and so forth. The handling marks are both written and pictorial. Decide if the handling marks should be written in English or a different language.
Place the handling marks in the upper corner of the package. The handling marks should be on all the different sides of the package.