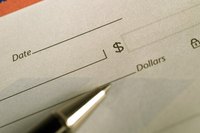 Many businesses will allow you to pay for purchases with half cash and half check; however, it is a good idea to call ahead and verify that a business will accept combination payments. The business's acquiescence may depend on the amount of the purchase, the item being purchased, the company policy or even the person you speak to that day. If the business accepts combination payments, check your checking-account balance online or at the bank to verify the amount of money in your account. Any overdraft or returned-check fees can significantly increase the cost of your purchase.
Speak to a sales associate before you pick out the item for purchase. Even if you have called ahead, that particular sales associate may not be aware of the business's policy. If the associate appears uninformed or is unwilling to help, ask to speak to a manager. Inform him of the information you were given about the company's policy for receiving combination payments.
State the amount that you would like to pay with cash and the amount that you would like to pay with check, once you receive the full purchase amount. Make sure that all taxes and additional fees have been calculated.
Pay the check amount. The cash machine will likely show the amount leftover. If it does not (or if there is no cash machine involved), then make sure that you and the cashier agree on the amount of money that remains to be paid.
Obtain your receipt, which shows that you have paid for your purchase in full. Certain systems may require that you receive two receipts: one for the cash payment and one for the check payment. If this is the case, make sure that both receipts add up to the total amount.