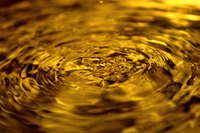 Because gold is a hard asset, it is becomingly increasingly popular to buy or sell gold these days. The price of gold is at an all-time high and it's still going up, while paper backed assets are in constant danger of crashing. Becoming a gold dealer is something that many are picking up, and you might consider doing, too. You simply have to find a supplier and people to sell to, and you're set.
Getting Started
To get started, you need to find a gold supply. You may already know a mass gold dealer. If you don't, talk to your friends and family and ask them to spread the word that you're buying gold. Put out word in local classifieds, or if your budget is larger, local television or radio, stating that you want to buy any gold coins, jewelry or scrap that people may have lying around.
Measure the value of what you receive. This is a relatively simple process. The first step is finding out what caret the gold is. Most jewelry has this written on it somewhere; if it doesn't, you can ask either an appraiser or the original owner.
Once you know the purity of your gold, measure its weight, using a digital scale with at least two decimal points. You can multiple the purity of the gold by the weight of the jewelry to find out how many grams of gold you have. You can figure out how much you're willing to pay for the jewelry, based on the selling price of gold on the larger market, with room for profit margin.
Understand that the value of gold coins is slightly different than measuring the value of gold jewelry. Due to the history and rarity of certain coins, they often are more valuable than their actual weight in gold. By using an up-to-date guidebook with a current gold price, you can keep track of how much each coin is worth. By doing this, you can ensure that you pay less for it than you'll be able to sell it for, guaranteeing your profit margin.
Find a buyer. This is often easier in larger or more upscale communities where there are more private collectors and jewelry shops. Sell them the gold at the price you have set, assuming it's not unreasonable, and make clear that you'd like to make this a business relationship instead of a one-time transaction. Building a business relationship means that you're more likely to get better prices and tip-offs in the future.