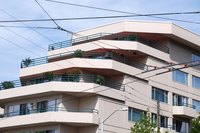 The Federal Housing Administration (FHA) has insured mortgages on more than 37 million single family dwellings since it started in 1934, according to the U.S. Department of Housing and Urban Development (HUD). FHA will insure loans for individual condominiums units, reimbursing the lender if the homeowner defaults on the loan. Condo projects or homeowner's associations (HOA) must meet FHA eligibility criteria. When shopping for a condominium, an FHA borrower or her lender or real estate agent should confirm which complexes are eligible for insurance through the HUD website, which features a database of all approved properties. The information contained on the website is available to real estate professionals and the general public.
Access the condominiums web page on the HUD website. Point to the "Resources" tab located directly above the photo slide show. Click on "HUD-Approved Condominium Projects" on the alphabetized list that appears.
Gather specific search criteria to input in the "Condominiums" page. At minimum, you will need either a location (state, city, zip code) or the condo (HOA) name.
Choose the sorting method you will use by clicking on the drop-down menu next to "Sorted By," which is the second category from the top. Depending on the chosen sorting method, input corresponding information next to "State," "Condo Name," "City" or "Zip Code."
Select "Approved" in the "Status" drop-down menu. Click "Send." You will be automatically directed to the result on the "Condominiums List," which provides the number of records found, the condo name, condo ID (specific to FHA), property address, FHA approval method used, document status of HOA information, whether or not the site contains manufactured housing, the concentration of FHA loans within the project and the approval beginning and ending dates.