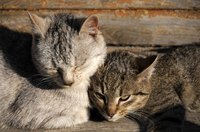 Cats, like most animals, do not like the scent of pepper. It irritates their nasal passages. The good thing about pepper is that it can be used to keep cats away from unwanted areas in and around your home. If, for example, your cat likes to claw up your sofa, you can apply a pepper solution and the cat will stay away. You can do the same thing in a garden if you find that a cat is urinating in that area.
Things You'll Need
1 cup distilled water
3 tsp. red pepper flakes
Grinder
Spray bottle
2 Tbsp. cayenne pepper
3 Tbsp. powdered mustard
5 Tbsp. flour
Plastic zipper bag
Homemade Indoor Pepper Deterrent
Pour 1 cup of distilled water into a spray bottle.
Grind 3 tsp. of red pepper flakes in a grinder and add it to the spray bottle.
Shake the spray bottle to combine the ingredients.
Spray over any area in the house that you want to deter your cat from going.
Repeat once every two weeks.
Homemade Outdoor Pepper Deterrent
Measure and pour 2 Tbsp. of cayenne pepper in to a plastic zipper bag.
Add 3 Tbsp. of powdered mustard, and 5 Tbsp. of flour to the plastic zipper bag.
Close the zipper on the bag and shake rapidly to combine all three ingredients.
Sprinkle your homemade pepper cat deterrent outdoors in the areas you want to keep cat-free.
Repeat every two weeks or after it rains.