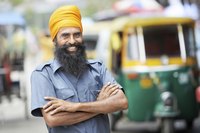 Much like the United States, business licenses in India are mostly a local requirement, not a national one. Once you've set up your company, you contact your local government -- Mumbai or Delhi city officials, for instance -- and learn the local requirements. Some businesses require added licenses. The Directorate of Industry for your state may be able to advise you in more detail.
Applying for a License
Much like the United States, your Indian business license depends on your professional field. In East Delhi, for example, owners, veterinarians, store owners and pharmaceutical firms all have separate licensing. Whatever your business, you can apply at the nearest Citizen Services Bureau or fill out the forms online. If you go the digital route, you upload the documentation required from your computer to the city website, and pay the license fee by credit card.
Filling in Details
The online license application includes a lot of details similar to American forms: your name, contact information, the business name and location and the legal form of your business -- sole proprietorship, partnership or public company, for instance. It also comes with distinctive Indian features, such as requiring your father's name. Some questions on the application are business-specific. If you want to open a factory, for example, Delhi requires you detail the horsepower of your machinery and the kilowatts of electricity it will be using.
Food Licensing
If you're in the food business -- wholesaling, retailing, manufacturing -- you fall under the domain of the Food Safety and Standards Authority of India. In addition to a local business license, you need to apply to the FSSAI as well. To apply, you need to provide an email address and a cellphone number. You can apply online, after which you print the application and present it to the regional or state authority controlling your business location.
Permanent Account Number
Even if you're opening your business as a sole proprietor, it will probably need a PAN card. The card has a 10-digit Permanent Account Number you use as an identifier. If you have to buy a vehicle for your business, open a bank account or hook up a telephone, the government requires you use a PAN on the paperwork. You can apply online at the Indian government's national website.