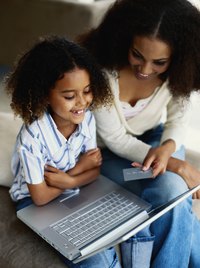 Piggybacking has long been a popular method for consumers with limited or poor credit histories to quickly obtain a better score. Because it has so much potential for distortion and fraud, the Fair Isaac Corporation changed its FICO score algorithms to account for illegitimate piggybacking practices. You may derive some score benefits from piggybacking, but only do it if you have a strong relationship with the cardholder and are willing to be liable for the cardholder's actions.
The Piggybacking Concept
The term 'piggybacking' refers to the practice of adding yourself as an authorized user to an already existing credit card account held by another. In the past, credit bureaus did not differentiate between the primary cardholder and other authorized users for credit reporting purposes. That means that the new cardholder would inherit all the qualities of the existing account. If the accounts is old, the credit limit is high and the cardholder makes the payments on time, piggybacking can be a big boost for the new authorized user.
Piggybacking Controversy
A few years ago, credit score providers realized that piggybacking could seriously distort a consumer's credit score. With piggybacking, a consumer can essentially take credit for a long, responsible credit history he actually took no part in developing. To combat this, the Fair Isaac Corporation announced in 2008 that it had changed its credit scoring to disallow authorized users from getting credit benefits from piggybacking. After consumer advocates pointed out that this unfairly disadvantaged stay-at-home spouses with lower income than their partners, the company reversed the decision.
How to Use Piggybacking
Piggybacking will only improve your score if you do it legitimately. FICO won't reveal the details of the algorithm but it does claim to be able to differentiate between legitimate authorized users and those looking to game the system. If you truly are a stay-at-home spouse or a family member with a limited credit history, adding yourself as an authorized user to an existing account may help your credit history. However, if you're a stranger, friend or distant relative, FICO's algorithm may tag you as a "piggybacker" and your score won't benefit.
Dangers of Piggybacking
Piggybacking can be risky for both the existing cardholder and the new authorized user. Sharing an account means that you're potentially liable for the behavior and actions of the other user. If the primary cardholder starts missing payments or maintains a very high credit balance, that negative information is reported on each individual's credit score. To be safe, only add a new user, or agree to become one, if you know and trust the other individual.