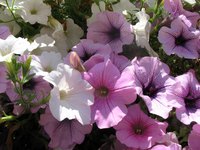 Bidding on any landscape job requires careful consideration of your company's costs. Your materials costs will include the plants themselves, the tools necessary for planting the flowers and the materials necessary for helping the plants grow (fertilizer, weed killer, top soil and mulch). You must also consider the labor involved to execute the job properly. After considering these costs, consider your competition as well as your client-base before submitting your bid.
Meet with the potential client and discuss the project they have in mind in as much detail as possible. Ask questions that will help clarify their wishes. Write down potential questions before the meeting so you don't forget to cover anything. Bring a paper and pencil with you and take notes as the potential client answers your questions. Answer any questions the client may have. Establishing a good rapport is the first step in winning a bid.
Research your costs involved with the project. Find the exact price of the flowers you will be installing. Call local nurseries to compare prices and get quotes. Make a list of all the other materials necessary for the job (e.g., topsoil, mulch and any fertilizer or weed killer you will be using) and the price associated with each.
Estimate how long the job will take. Make a list of your pay rate for each employee necessary for the completion of this project. Add extra time to your estimate to avoid underestimating the project and coming up short on time and money.
Add all the separate costs of executing the project together. Check your numbers twice to make sure they're accurate. Add to this raw estimate the amount of money it would take for you to turn a profit on the job.
Consider your local competition as well as what you think this particular client is able to or willing to pay. Look over all your cost lists again and shave any unnecessary costs from your estimate to keep it modest and competitive.
Submit your bid. Communicate clearly with your potential client and reiterate your willingness to answer any questions. Remember, rapport is an essential part of any kind of business and can give you a competitive edge over other service providers.