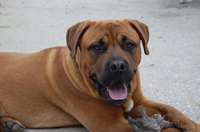 When a dog is neutered, the vet cuts out everything so that the dog is unable to produce puppies. It is uncommon that a dog's neuter is botched because a vet's license and training requires that they are competent in neutering a dog. There are rare cases where a neuter is botched and the dog is still able to produce puppies, but signs of a botched neuter can be difficult to spot.
Look at the dog's behavior after the neuter. If the dog is still trying to mark territory or is acting similar to the behavior beforehand, it is a potential sign of a botched neuter. Keep in mind that accidents in the house might be a sign of incomplete house training rather than marking territory.
Ask the vet questions. Most cases of a botched neuter result from a vet being unable to locate every part that is cut out during the neuter. If the dog is behaving like an unneutered dog, ask the vet that performed the neuter if there were any problems during the neuter.
Take the dog to the vet and have a test performed to check testosterone levels. If the neuter was botched as a result of the vet being unable to find everything, testosterone levels in the dog's blood will have a higher elevation than the blood of dogs that have a complete neuter. Look at the test results and determine if a second neuter is necessary.