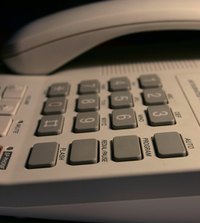 While email and Internet communication may have reduced the need for international calls, it is still important to know how to place a call to another country. If you plan to do business or take a vacation there, having this information may prove invaluable. If you are traveling to London from another country, you may want to make sure that anyone who may need to reach you knows how to make a call to your hotel, even if you plan to have other means of communication available.
Things You'll Need
International Direct Dialing Number for the U.K.
Local number of the party you want to reach
Determine the International Direct Dialing Number (IDD) for the country you are placing the call from. For the United States, this is 011. The IDD will precede all other numbers when you place an international call.
Dial the IDD followed by the country code. For the United Kingdom, this number is 44.
Dial the city code for the part of London that you are calling. This should be either 207 or 208. Most inner-city locations are preceded by the 207 city code, while outer-city locations are typically under the 208 code.
Complete your call by dialing the local telephone number of the person or company that you are trying to reach. If you don't know the local number, the website of the company or an online London phonebook may help.