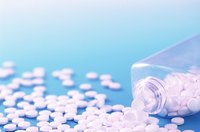 Much like people, dogs can experience mild to moderate pain for a variety of fairly mundane reasons. You should take your dog to the veterinarian if you suspect he has injured himself. Your vet may suggest aspirin for some relatively minor injuries or chronic conditions. If your veterinarian suggests you give your dog aspirin, there are a few things you should know.
Aspirin Basics
Aspirin is a nonsteroidal anti-inflammatory drug, which can be given to dogs, though it normally is not recommended for long-term use. The primary functions of aspirin are to relieve inflammation and reduce pain. It can be used to treat occasional injuries, arthritis, joint pain and to reduce fever.
Potential Problems
If your dog is experiencing pain regularly, discuss treatment options with your veterinarian. Aspirin can cause blood to thin and may lead to excessive bleeding, liver inflammation and kidney problems. If your dog throws up, becomes lethargic, stops eating or otherwise appears sick after taking aspirin, take him to the veterinarian immediately.
Aspirin Dosage
Advise owners to ask their veterinarian for the correct dose that will be safe for their dog. According to Walker Valley Veterinary Hospital, you can give half a baby aspirin to a dog weighing less than 10 pounds, an entire baby aspirin to a dog who weighs between 10 and 30 pounds, half a regular aspirin to a dog who weighs between 30 and 50 pounds, an entire aspirin to a dog who weighs 50 to 100 pounds and two aspirin to any dog weighing more than 100 pounds.
Giving Your Dog Aspirin
It generally is recommended that you give your dog buffered aspirin because it is easier on his stomach. Use as little aspirin as you need to control your dog's discomfort. The easiest way to give a pill is to put it in a dog-safe treat or mixed in with wet pet food. Otherwise you may have to place the pill directly in your dog's mouth and encourage him to swallow it. You do not want to cause unnecessary stress for your dog, so do not make taking the pill into a battle. Talk to your veterinarian about other options if you have problems medicating your dog.