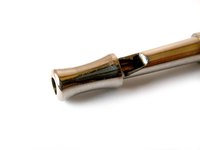 Dog whistles were traditionally used by hunters to control their packs without scaring off the prey, and hunters today continue to use them. Other dog owners who spend time with their pet off-leash or who have outdoor dogs can also benefit from the use of a dog whistle. Most whistles operate at a high frequency better suited for a dog's ears than a human's. This allows you to control the dog without yelling or harming your own hearing.
Select the whistle most appropriate for you. They come in metal, plastic or bone. Plastic whistles have a more comfortable mouth-feel, which may be better for hunters who need their hands free and will keep the whistle in their mouths. The whistles also come in varying noise levels, from the mostly inaudible to humans to the more standard whistle sound. Hunters, or dog owners with nearby neighbors, may benefit from the inaudible whistles.
Practice using the whistle without your dog. You can use different sounds from the whistle for different commands, so practice making those sounds. Try high or rising notes, then falling notes. Practice making a short blast and a long, steady sound.
Begin training your dog to sit on a whistle command. The traditional whistle command for sit is one long note with your hand raised up. Training the dog to sit first neutralizes a situation, and gives you the dog's attention for any further commands you want to teach.
Teach the dog to sit with a verbal command and an upraised hand. Say "sit" firmly, as you gently push on the dog's hindquarters with one hand and hold up the other hand. Repeat the phrase and continue gently pushing until the dog sits. Immediately praise the dog and give him a dog treat. Continue this five times a day for one week, or until the dog sits without being pushed.
Say "sit" and immediately blow a long, steady note on the dog whistle, holding up one hand. Continue repeating this in the same way you taught the dog to sit with a verbal command. After one week, remove the verbal command. Blow the note on the whistle and raise up one hand. The dog should sit.
Increase your distance from the dog while giving the command. Start with commanding from across the room, then from across the yard. Gradually increase the distance up to 150 feet. When your dog will sit with the whistle command at that distance, go out of your dog's sight and give the command. Work up the length of time the dog can't see you.
Add in new commands when the dog can sit without seeing you. Try the "come" command, which is two sharp blasts on the whistle accompanied by you calling the dog's name.