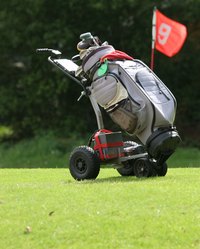 Opening a golf business is a dream come true for golf enthusiasts. You can be your own boss and work around a game you love. The work itself can be stressful. But with preparation and patience it can also be lucrative, mainly because there are so many players, both male and female, from all age groups. Seek help from your local small business administration office to get started on the right foot.
Things You'll Need
Business plan
Funding
Store location
Licenses and permits
Suppliers
Employees
Advertisement
Decide on the services you would like to offer and the items you will sell. If you can secure enough land, you could open a pro shop and a driving range, where golfers can practice their tee shots. If space is tight, you might just open a specialty store that only offers golf clubs and other equipment.
Create a catchy name for your new golf store. Common names can be easily forgotten or confused with other businesses. A catchy business name will help golfers remember your business.
Develop a business plan that is professional in appearance and readability. It should include your goals, strategies for success and budget. Visit the U.S. Small Business Administration website and browse through the resources they offer, which include free sample business plans. Hire a professional editor to scan the plan for errors when you are finished.
Obtain and complete paperwork for a small business loan at the financial institution of your choice. You will need start-up money to buy or lease a building, purchase inventory, pay fees and licenses, and pay operating expenses while you build up your customer base.
If the bank denies your application, consider other funding sources such as family, friends and other businesses. Visit your local Chamber of Commerce to see if you can benefit from their services.
Decide if you would like to build, buy or lease a building for your golf business. All three choices have their advantages. Leasing means you will have a landlord to make repairs. If you own your building, you can customize it to your preferences and build equity. Each option requires the completion of a large amount of paperwork.
Obtain local and state permits and licenses by visiting your local courthouse or municipal office and completing the proper applications. Requirements vary by state and municipality. Learn how to get a federal tax identification number by visiting the Internal Revenue Service website.
Locate suppliers or wholesalers who have the golfing items you want to sell. You can find this information online or in trade publications. Decide if you want to offer name brand or off brand items, or both.
Advertise job openings in local publications and on local job websites. You can also hire an employment agency to help with the interview and hiring process. The ideal candidate will be a skilled golfer who can speak intelligently about the game.
Display the items in your store in such a way that your customers can easily locate them.
Host a grand opening. Advertise it in local publications, on local websites, on the radio and on television, if you can afford it. Post fliers with discount coupons on car windows. Consider running discount ads in the newspaper as well.