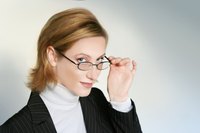 The U.S. Department of Labor reported that in 2008 there were approximately 102,900 insurance underwriters earning a median income of $56,790. An insurance underwriter is responsible for screening insurance applicants to determine whether or not insurers can provide the applicant with insurance coverage and, if so, under what conditions. Insurance underwriting is risk management for insurance companies. The underwriting process is done before a policy is issued and also periodically during a policy term for coverage continuation.
Assess what type of insurance the applicant needs. The type of insurance policy will determine the underwriting process. Some common types of insurance policies are health, auto, property and business. With health policies, most insurance carriers focus on the health of the applicant to determine eligibility. Auto insurance underwriters review the applicant's driving history and vehicle condition to approve or deny a policy. Insurers who provide property insurance examine the location and characteristics of the specific real estate to be insured, and business insurance carriers study the type of business to determine if a policy can be issued. Review the insurance carrier's underwriting (risk management) guidelines to clarify what rules apply to the type of insurance you are underwriting.
Request the insurance applicant to fill out an application. The form should include his name, address and any background information applicable to the type of insurance requested. For example, if he is applying for auto insurance, request his driver's license number and motor vehicle information. Find out if he has any recent driving violations. Review the application in accordance with the insurance carrier's underwriting guidelines.
Evaluate the risk. Determine whether you should insure the applicant for the type of insurance he is seeking or based on the applicant's information and background, decide under what conditions you will grant insurance coverage.
Approve or deny insurance coverage for the applicant. If you deny insurance coverage, provide the applicant with the reasons why you made your decision. Make sure you adhere to state and federal laws when you approve or deny insurance coverage. Check with the insurance commission in your state to ensure compliance. Some types of insurance are mandatory in most states, such as auto insurance, and carriers cannot deny coverage; however, insurance premiums can be increased, depending on the risk.