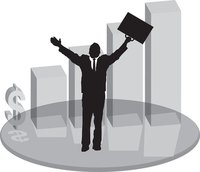 Properly introducing a new sales representative to his colleagues and clients should be a fundamental part of the new-hire orientation process. Simply giving the new sales rep a welcoming pat on the back, a list of accounts and desk could lead to feelings of isolation and an unsuccessful start. Your orientation for the new rep should include plenty of personal contact and introductions over the first week or month. The introductions and personal attention may help increase her confidence in the organization and in herself--two key components for success in sales.
Send an email to the staff announcing the hiring of the new sales rep. Provide a little about his background, including, possibly, the name of his last employer and his previous sales accomplishments. Offer some personal information as well, such as hobbies and educational background.
Personally introduce the new rep the day she reports to work. Make the introduction the first order of business at the daily sales meeting. Later, walk around the office with the new rep and introduce her to as many sales and sales-support people as possible.
Schedule lunches, if possible, with key clients in the sales rep's territory. Use the lunch to introduce him. Follow up with other social events including the new rep and clients or potential clients.
Send out a press release to local business publications announcing the sales rep. Also consider welcoming her with a posting on the company's social networking pages.