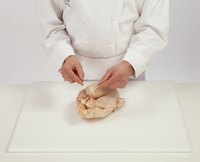 You can cook and prepare homemade dog food much the same as you do your own food, but beforehand you should consult your veterinarian to ensure your pet's daily nutritional requirements are met. Take care to avoid including any ingredients that would be toxic to your pet.
Winner Winner, Chicken Dinner
Ostensibly carnivores, dogs require animal protein to remain healthy. While you should vary the protein sources you serve, chicken is a fine staple protein for your dog. In addition to being an economical and lean protein source, chicken tastes good to almost every dog. Stewed chicken breast contains about 42 calories and 8 grams of protein per ounce.
Additional Ingredients
While chicken is a great source of protein, dogs need more dietary items to obtain all of their necessary vitamins and minerals. Cooked brown rice provides dietary fiber and bulk. Fruits and vegetables are important components of a well-rounded dog diet, so include things like cooked green beans, sweet potatoes, cauliflower, potatoes, asparagus, broccoli and carrots with the chicken and rice. Do not add salt, pepper or other seasonings to the food. Avoid grapes, raisins, onions, garlic, artificial sweeteners or chocolate to dog food, as these items are toxic.
Cooking Up the Chow
You can cook your dog's chicken in a variety of ways. Boiling and baking are two quick and easy methods for cooking, but you can use a pressure cooker if you have time. The method by which you cook the chicken can affect its nutritional content -- grilling allows the fat to drip away, thereby lowering the caloric content, while baking and pressure-cooking retain more fat. Do not give your dog chicken bones, but you can remove the marrow and add it to your dog's food, or boil the bones for about four hours to create a thick, meaty broth to pour over his food.
Wash all fruits and vegetables and cut them into bite-sized pieces before offering them to your pet. While carrots can be offered raw, your dog will probably appreciate them more if they are cooked. Most other vegetables -- including potatoes and beans -- must be cooked thoroughly. You can roast them, but boiling or steaming work equally well.
Storage and Shelf Life
Once all the ingredients are cooked, mix them together and offer them to your dog. Store the unused portion in a sealed plastic food container or plastic bag. Keep the food refrigerated; you can serve it to your dog cold or heat it up slightly if you wish -- some dogs appreciate warmed food. Touch it to ensure it's not too hot. Homemade dog food should keep for about three or four days in the refrigerator, so it is usually necessary to make two batches per week.
Quantities and Portions
Discuss your dog's nutritional needs with your veterinarian before cooking up a large batch of homemade food. Your veterinarian can explain how many calories your dog needs each day, as well as how many of your dog's daily calories should come from protein sources, carbohydrates and fats. This will provide you with the information you need to determine the proper ratio of vegetables, rice and chicken to use in the recipe and how much food to offer your dog each day.