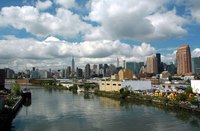 Apartments in Manhattan in New York City are some of the most expensive and desirable in the city's five boroughs. Therefore, in order to find your dream apartment, you need to formulate a apartment-buying plan, which can include deciding what apartment features and amenities you are seeking and contacting a real estate agent to help narrow your search.
Things You'll Need
Real Estate listings
Buyer's agent
Telephone
Computer with Internet connection
Instructions
Decide what you're looking for in a Manhattan apartment. At any time, thousands of apartments may be available for sale in the borough, so narrowing your search based on several important factors is an important first step. Take into consideration how much you want to spend on the apartment and construct a financial plan for a home loan. The Department of Housing and Urban Development answers many common questions and concerns about purchasing a home on its website. HUD also provides a website for home ownership in New York, which includes home ownership planning and a homeowner kit.
Look at local real estate listings for available apartments in Manhattan. You can find these listings both online and in print sources. Real estate listing books for Manhattan are located at a variety of stores, gas stations and public transportation hubs. Local newspapers are also good resources for real estate listings. The New York Times provides a real estate listing portal on its website, which allows you to narrow by New York City borough and by price and available amenities.
Search the online real state database, realtor.com, which is provided by the National Association of Realtors, to find apartment listings in Manhattan. The listings will give you an idea of the type of apartments available in Manhattan, the prices that the apartments are listed for, and the real estate agents who are representing the properties and their contact information.
Contact a real estate agent who has a history of success in finding apartments in Manhattan. Hiring an agent is not always necessary, but in a competitive real estate market such as Manhattan, an agent can help direct your search based on your criteria. Experienced agents may also have insight on apartments that are newly listed or that haven't been officially listed yet. Finally, an agent will help you negotiate your offer to buy an apartment. The New York Buyers Agent Organization pre-screens for agents in the New York area with advanced licensure and extensive experience. To find an agent in Manhattan, check the free listings on the organization's website.
Make an offer to buy an apartment. Based on loan availability from a bank or your personal finances, you will construct an offer to purchase an apartment based on the highest price you are willing to pay, and a closing date when the offer will no longer be valid. You should be prepared to negotiate the offer. If your offer is accepted, you can begin the process of closing the purchase. While it is not necessary to have an agent or attorney represent you in this process, it is extremely helpful, as an agent can write your offer, negotiate the terms and settle the offer once it has been accepted.