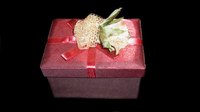 A prepaid MasterCard gift card is a convenient gift option for the difficult-to-shop-for friend. Although the gift card funds can be spent like cash, the purchase of a gift card has the presentation of a physical gift instead of transfer of cash from one wallet to another. A MasterCard gift card can be used at many locations, unlike a store-specific gift card that is good at only one location. Using a MasterCard gift card is similar to using a credit or debit card.
Locate the toll-free phone number on the back of the gift card. Call to activate the card. This generally requires entering the gift card number using the buttons on your phone. The card is ready to use following activation.
Use your gift card as payment anywhere that MasterCard is accepted. Tell the cashier that gift card is the form of payment before he swipes the card. If self-swiping the card, press the gift card button. "Gift card" should also be chosen as the payment method for online purchases.
Continue purchasing until you exhaust the prepaid gift card balance. When the balance is not sufficient to complete a purchase, the amount remaining on the gift card will go toward the purchase and leave an outstanding balance to be paid with another method.