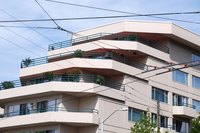 Short sales are a way for a homeowner who is in a mortgage that they can no longer afford to potentially stave off foreclosure. The ability to sell a property through a short sale is up to the discretion of the lender who holds the mortgage on the property. Short sales are common in Florida, and approaching your lender regarding having your property sold in this manner is feasible. In Florida, mortgage lenders are accustomed to short sales and will be able to work with you and explain their policy regarding such property sales.
Things You'll Need
Loan or mortgage documents
Last mortgage statement with balances
Income and expense information for your household
Read through all of your mortgage paperwork, including your initial loan information. Make a list of what is owed on your property and what the value of the property is. Make a list of your monthly income and expenses, along with all other debt that you have beyond your mortgage. You will need this information when you discuss the option of a short sale with your mortgage lender.
Contact your mortgage company who services your account. Request to speak with someone who handles short sales for Florida and discuss whether or not your property qualifies. Short sales are when a lender opts to allow a property to be sold for a loss when the homeowner can no longer make mortgage payments and the property is in jeopardy of entering into foreclosure status. You do not have a say in whether or not a lender will decide to allow a short sale to occur.
Meet with your lender and take all of your paperwork with you. Verify before your meeting what documents you will need to bring along to the meeting. You will need to explain and prove to your lender that you are unable to make your mortgage payments and that a short sale is in the best interest of the lender. In Florida, there are numerous properties for sale, and your lender will be aware of the amount of property currently for sale. Your lender is hoping to recoup as much of their money as possible and a short sale is a way to sell a property faster, especially in Florida where there are so many properties for sale.
Receive written approval from your lender that they accept your property as a short sale. Be clear about the amount they agree to accept as a payoff for the mortgage. List your property for this amount with a Florida real estate agent and advertise in Florida newspapers and on Florida websites. Note in the listing that the property is a short sale.
Work with your real estate agent to sell the property and stay in contact with your lender to keep them updated on your process. Continue to make mortgage payments during the short sale process as foreclosure will happen if you do not make payments on time.