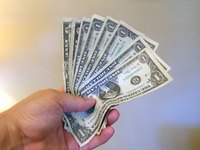 With any retail business, cash control can be a major concern. You often have many different employees handling cash all day, and different managers making deposits. Without a strict system in place, missing cash can be a problem from the start. Make cash control a high priority when implementing systems for running your business. Set rules in place to cover all cash handling circumstances, and train your people to use them without fail.
Things You'll Need
Safe record book
Calculator
Count your safe in the morning with two people. One manager counts the money while another employee witnesses the counting. The manager should fill in the safe record book with the number of each type of coin and bill, and the total amount in the safe. Have both the manager and the employee sign the book and date it.
Count your safe again every time a new manager takes over a shift. Managers are always responsible for the money on the premises, so each manager should ensure that the correct amount of cash is present before beginning her shift.
Count the money in each register drawer at the beginning and end of each employee's shift. Have the employee count the money with a manager witnessing the count. If there is a discrepancy, make note of it in writing and have both people sign this note.
Count all deposit envelopes in front of a witness. Depending on your business, you may have cashiers drop money from their register drawers at regularly timed intervals or whenever the total in the drawer reaches a certain point. A manager should count the deposit envelopes and check off the totals against the deposit log. Sign and date the deposit log, making sure that both people sign.
Investigate any money discrepancies as soon as they come up. Money shortages can be caused by many things, but the most common are miscounting and pilferage. Look into the cause of any missing money and take appropriate action right away.
Institute a policy of consequences for missing money. Make all employees aware of what happens if they don't have the money that they are responsible for. Whether you decide on write-ups, making the responsible party pay back the money, docking pay or termination, make sure that everyone knows what happens in the case of missing money, and apply the same rules to every employee.