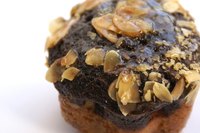 Starting an online business is a way to earn extra money. An online confectionery store is one such business that can be carried out through the Internet. Online stores can be extensions of an already established store, or a means to earn money by working from home. Either way, this new venture will be exciting.
It is important to take the time to learn all you can about an online business before jumping into this venture.
Things You'll Need
Recipes
Notebook
Pen
Website designer
Licenses or permits
Equipment
Ingredients
Shipping equipment
Containers
Setting Up Shop
Go through the recipes that you currently use and decide which ones provide sweets that will keep well in shipping. Figure out how long each type of confectionery will last in the mail, and whether the items would need to be frozen before shipping. Look for other recipes, starting out with about six at first and growing as you become more comfortable with the venture. Write all of this information in your notebook.
Hire a professional to help you create a website (Reference 1). Coordinate the site with an existing offline business, or come up with something new. Be sure the graphics do not take too long to load, and that an effictive shopping cart system is used.
Post pictures of the sweets on the site, as people like to see what they are buying. Hire a photographer if necessary, and learn how to upload pictures to the computer and to the site.
Hire a writer if you need help writing winning descriptions of your products.
Visit the post office to figure out the best ways to ship your products (Reference 2). Ask about wrapping the products before packaging them, and find out where you can purchase your shipping needs at the most reasonable cost. Check with other shipping companies as well, such as UPS or FedEx.
Visit the town hall to find out what licenses or permits are necessary to start your business venture, and which ones will need to be renewed yearly. Do what is necessary to acquire these items, including scheduling kitchen inspections or paying any necessary fees.
Begin purchasing cooking equipment and ingredients. Set up space for your venture. Keep this area organized at all times. Be sure that there is space for shipping materials, as well as for the containers for shipping the sweets. Activate the website once you have everything necessary to start the business.