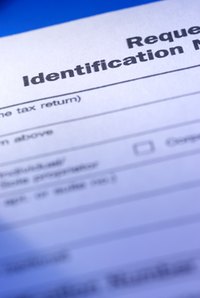 Identity cards are used to identify people in various settings. Identity cards can be used in large offices or factories, but can also serve well at large student functions or business events. Asking attendees to carry proper identification cards can add extra security and protection to specific events, as everyone is identifiable. A common identity card usually includes name, position or rank, a current photograph and signature. Cards are often laminated and must be visible at all times.
Things You'll Need
Identity card software
Cardstock
Printer
Hole punch
Scissors
Clip or thread
Laminating machine
Load identity card software onto the computer. Alternatively, if no software is available, open a Word or PowerPoint document and create a blank template. Use the rulers in the program to create a frame for the identity cards. For example, the size of the identity cards could be 4 inches by 6 inches. Use the rulers to make sure the information stays within these measurements.
Add a picture to the card by clicking "Insert" or "Add," depending on the program you are using. Place the picture on the card where it is best suited.
Create a text box by clicking "Insert" or "Add," and type the name of the person who will be wearing the identity card. Make sure the name is readable from a distance.
Write the organization the person belongs to, and his title or position. Locate this information underneath the name.
Scan in any signatures, if applicable. These often come in the same format as pictures when scanned, so simply add them by clicking "Insert" or "Add."
Double-check spelling and card layout before printing.
Load the chosen cardstock into the printer and click "Print." The best type of cardstock is often recommended on the software package. However, you can also use basic cardstock. When the cards have been printed, cut them to size, using the border as a reference.
Laminate the cards by putting them through a laminating machine. Trim the borders with scissors.
Punch a hole at the top middle of the card, so the card can be worn. Use a clip to attach the card to shirt pockets or jackets, or thread a string through the hole to make the card a necklace.