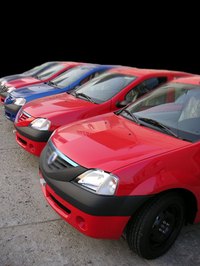 A car dealer in Illinois is defined as an individual who buys or sells more than five cars in a calendar year. Dealers must be licensed, and these licenses must be renewed annually. The form to request a dealer license is available online and is submitted with payment and supporting documentation to the vehicle services department in Springfield, Illinois.
Things You'll Need
Dealer license request form
Retailer tax number
Check or money order
Supporting documentation
Read the dealer license request form completely before filling it out. Complete the first section of the form, including the retail tax number. A letter of franchise is required for each type of vehicle that will be sold by the dealer. Add a sheet of paper if additional room is needed to list the information requested for the partners or trustees of the dealership.
Complete the second section of the form by reading and responding to each question accurately. Include all supporting documentation required as determined by the specific answers to each questions. Sign the bottom of the section.
Read and sign the third section of the form. Review the fees listed in the fourth section and write in the number quantity needed for each type of certification. Total the amount of fees. Make a check or money order out to the secretary of state for the total amount of the fees.
Have the document notarized. Make a copy of the form and all supporting documentation. Submit the originals to: Vehicle Services Department Dealer Licensing Section 501 South Second Street Room 069 Springfield, IL 62756
The department will contact you to schedule an inspection. Once the inspection has been completed, the dealer license will be issued.