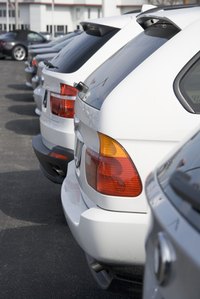 To become an automobile dealer in the state of Wisconsin, there are several distinct requirements and quite a bit of paperwork to go through. However, the process for getting a dealer license is not overly complex, provided you know how to navigate through the application process. With the right background knowledge, you can apply for and receive your Wisconsin dealer license in just a few weeks.
Things You'll Need
Minimum 12-by-20 foot indoor space
Business zoning permit
Seller tax permit
Form MV2186
Form MV2844
Form MV2845
Form MV2511 or MV1046
Form MV2184
Form MV2085
Form MV2941 (optional)
Form MV2651 (optional)
Make sure your facility meets the requirements for a Wisconsin dealer license. According to the Wisconsin Department of Transportation, you must retain a permanent location with at least a 12 by 20 foot indoor display area. You must also retain the proper zoning and seller tax permits necessary to operate the location as a legal Wisconsin business.
Fill out and make two copies of the Motor Vehicle Dealer Two Year License Application, also called "Form MV2186." Form MV2186 and all other documents required for application can be found at the Wisconsin Department of Transportation website, or they can be picked up at your local DMV. Form MV2186 is the primary application paperwork required to obtain a Wisconsin dealer license. However, there are several secondary forms that must be submitted along with this paperwork.
Complete your "Entity/Owner Statement" and your "Business Facilities Statement" as instructed on forms "MV2844" and "MV2845." These "statements" are little more than simple yes/no questions and a bit of short-answer writing designed to explain your business objectives and history.
Complete a "Dealer Bond Form," also called form "MV2511." For liability issues, all dealers must be bonded. If sponsored by a financial institution or other business, you may use form MV1046, known as a "Wisconsin Motor Vehicle Irrevocable Letter of Credit" form, instead of the standard MV2511 paperwork.
Complete and sign the "Salesperson/Representative License Application," form MV2184, and the "Motor Vehicle Service Agreement," form MV2085. Pending dealer approval, these pieces of paperwork will authorize your company to retain or hire customer service representatives and automobile service technicians.
Consider additional optional application materials. If you plan on buying used vehicles for resale or salvaging, then you must submit forms MV2941 and MV2651 with your dealer application. If you won't be purchasing used vehicles, then you can leave these forms out of the application packet.
Enclose all five required forms, any optional forms and the application fee in an envelope. Fees are subject to change, and the Wisconsin Department of Transportation suggests consulting form MV2186 for the most up-to-date fee information.
Mail your Wisconsin dealer application materials to the following address: Wisconsin Department of Transportation, Dealer and Agent Section, P.O. Box 7909, Madison, WI 53707-7909. You will likely get your Wisconsin dealer license within two to three weeks, though you may need to wait several weeks longer for approval if your application is incomplete or flagged for additional investigation.